3 Tips For Decorating Your Home With A Mediterranean Style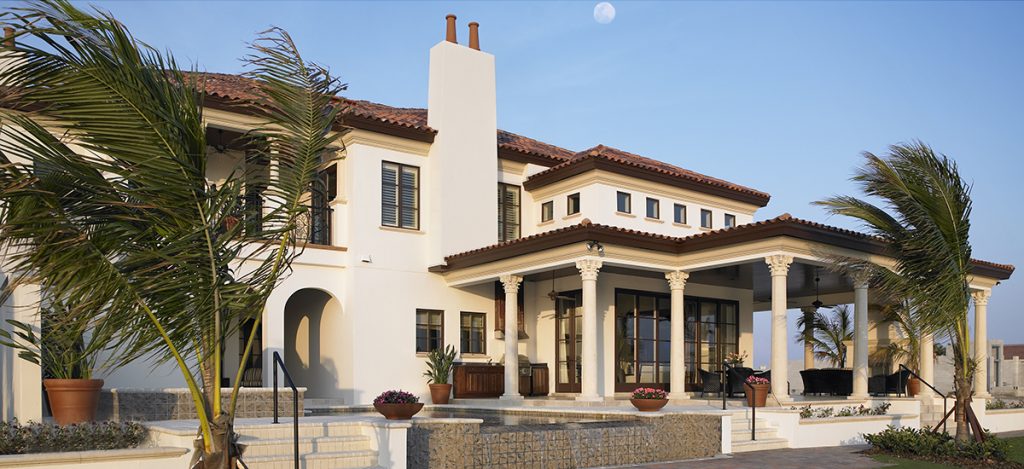 As your St. Pete custom home builders, we know that when designing the interior of your home, there are many styles to choose from. One classic favorite is the Mediterranean style, a style that is most found in warmer climates, perfect for custom homes in St. Petersburg. This particular style originated from Greece and Spain, and can usually be classified as a Spanish-modern look.
1. STYLE AND BUILD
To get the Mediterranean look you want for your custom built home, high ceilings, decorative arches, wood detailing, and balconies are popular looks, as well as spiraling staircases and columns. These homes typically have a stucco exterior and a tile roof. Courtyards, terraces, or lanais are also very common to have added to the exterior of your Mediterranean home, to invoke the feeling of the outdoor and relaxed lifestyle of a home in Spain or Italy. Balconies can also add a hint of flair to your home.
2. COLOR AND PAINTING
The colors associated with this style are typically colors that remind you of the sky and the sea: blue, sea green, orange, yellow, pink and other warm colors. The colors are meant to embody living outside, seeing the sea and the sunset from the comfort of your luxury home. When painting the walls, a good tip to incorporate the Mediterranean style is to apply the paint with a sponge for a textured look. Mosaic or terra cotta tile designs are also great to add to the floor, counters, tables or even the walls. If you are considering a staircase in your custom home, lining them with colorful tiles is fun way to accent your style.
3. FURNITURE AND FURNISHINGS TO MATCH YOUR STYLE
We know how hard it can be to pick out furniture for your new, custom built home, and luckily, shopping for a Mediterranean style is pretty simple. When picking out furniture for your home, go with heavy, sturdy furniture. Anything hardwood or wrought iron will give a more genuine look. Mediterranean styles typically feature furniture that have shorter legs and intricate designs. Colorful accent pillows will complement the colors of the furniture and walls, especially ones made of silk with beadwork or fringe.
Candlesticks, bronze figurines, vases and urns are good accents for your Mediterranean style. For homes with a fireplace, consider a wrought-iron fireplace screen as well. Chandeliers and lanterns also go with this vibrant style.
Since the rooms are so bright and colorful, when choosing curtains, it is a good to go with white or neutral colors. Gauzy, white curtains will especially give a light and airy feel that will accentuate your Mediterranean style.