4 Steps To Pick The Perfect Pool Design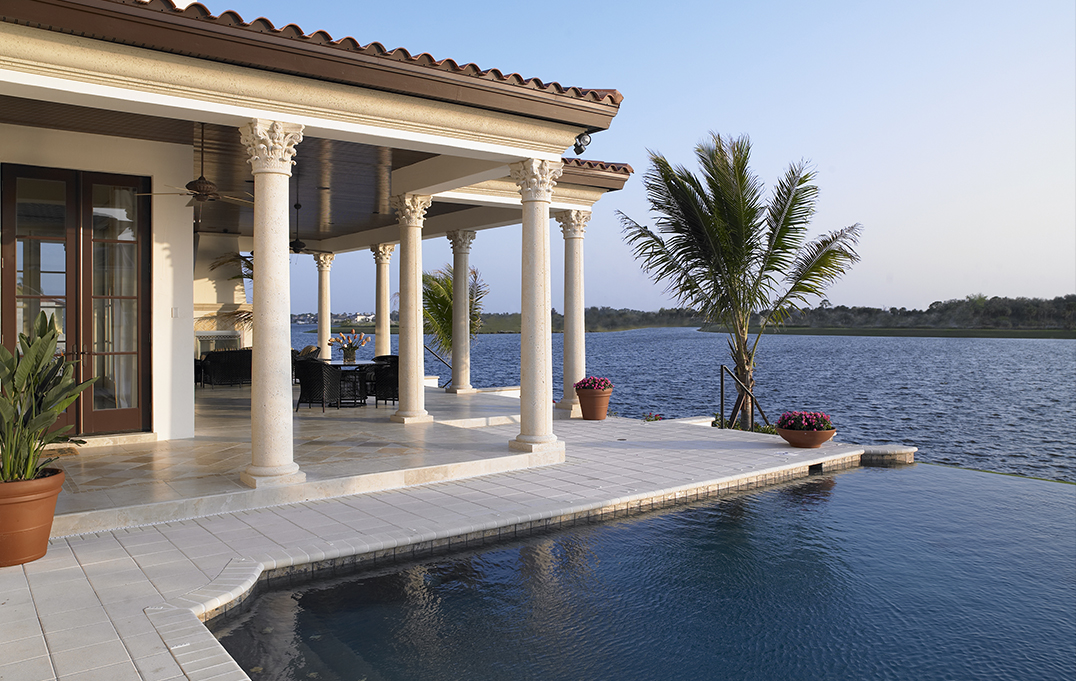 When it comes to choosing a pool design, the choices are plentiful. As your energy efficient home builders in Tampa, we know the design choices can seem endless, so we've compiled a few tips to get you started in the right direction when it comes to designing your dream pool.
1. Size, Budget, and Features
One of the first things to consider is the size of the area where you want to install the pool. For in-ground pools, we recommend that you have at least 8×3 meters of space available. Another thing you should consider is your budget for the pool. Having a set budget will help to narrow down what type of pool you want installed. Do you know how you want your pool designed? You can get a pool with steps leading down into the water, or have your pool designed like a beach where you just gently wade in. The ideas are endless; hot tubs, water slides, fountains, swim up bars, and even an underwater table and stools are all possibilities. Going into this process with a solid idea of what type of luxuries you're looking for will help to save you time.
2. Material Options
There are several materials you can choose from when building your pool. Concrete, fiberglass, and vinyl are some of the most popular choices. Vinyl lining is customizable, and there are a few different varieties of design. Vinyl lining is typically quicker to install; it usually takes less than a month. If you choose to line your pool with fiberglass, you can expect a smooth surface, which helps prevent any algae build up. Fiberglass also supports a lot of pressure without the risk of cracking, but if damaged, it can be repaired very easily. Fiberglass is the easiest material to maintain and clean out of the three choices. Concrete or cement in-ground pools add more of a permanent value to your property. This type of pool typically lasts for generations without replacement, with the proper maintenance. Concrete pools can be installed in just about any shape or size you want.
3. Saltwater Versus Chlorine
Saltwater is becoming a very popular choice to fill your in-ground pool with. There is still some chlorine in saltwater pools, but the chlorine comes from the salt, created by a salt water generator. However, the chlorine levels in a saltwater pool are much lower, and saltwater pools are generally less drying to the skin. While saltwater pools can be more expensive upfront, because you have to purchase a saltwater generator, it outweighs the costs of having to buy pool chemicals on a regular basis over time. Cleaning your saltwater pool is only required once a year, where you drain the pool, change the filter, and scrub.
4. Energy Efficiency
These days, it's easy to go green with your luxurious in-ground pool. As your green home builders in Tampa, we know you can save energy and maintain a comfortable swimming pool temperature by using a smaller, higher efficiency pump. On average, an energy efficient pump will use 30 to 45 percent less energy than that of a standard pump. Solar covers are also another way to save energy. Solar pool covers can reduce pool heating costs 50 to 70 percent. They can reduce the pool's chemical use by 35 to 60 percent, and reduce the time and effort needed to keep a pool clean.
To schedule a consultation with Alvarez Homes, please call us today at (813) 969-3033 or submit our contact request form.