ALVAREZ NEW CONCEPTS BREAKS GROUND ON FINAL COLLECTION OF NEW, LUXURY GOLF COURSE HOMES IN TAMPA'S PREMIER COMMUNITY — AVILA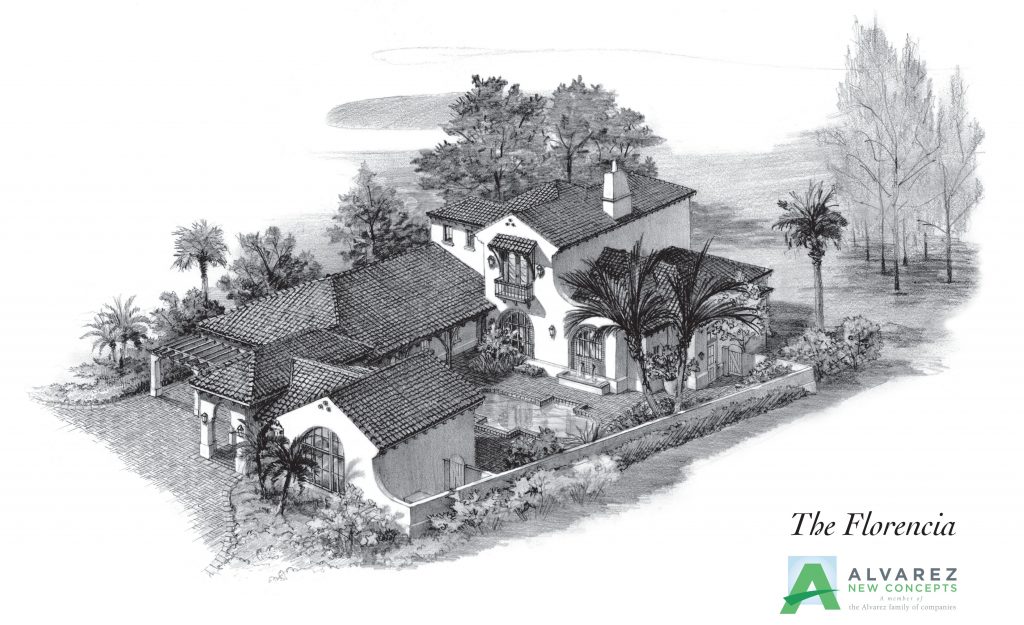 February 05, 2016 – FOR IMMEDIATE RELEASE
First Model Home — The Florencia — Sets New Standard for Authentic Spanish Eclectic Architecture, Technologically Advanced Conveniences, and Energy Efficient Construction
TAMPA – Alvarez New Concepts, a member of the prestigious Alvarez Family of Companies, Tampa Bay's premier custom home builder with more than 450 distinctive, luxury estate homes completed since 1983, announced today that is has broken ground on the final collection of new, golf course homes available at Avila.
The development, with Alvarez New Concepts as the exclusive builder for the first new, luxury golf front homes/lots in Avila in nine years, will be limited to 12 estate homes showcasing authentic Spanish eclectic inspired architecture with each home offering unique features such as private courtyards and guest "casitas". Each home will have views of the renowned Avila golf course and its own golf cart garage.
The custom-built, state-of-the-art designs will offer energy efficient, open plan homes of 3,000- to 5,000-sq. ft. starting in the low $1.3 million price range. With only 12 luxury estate properties available, demand is expected to be extremely strong for this exceptional enclave located on the last undeveloped golf course lots within the Avila community.
"Because Avila represents the best of the best we are utilizing the best in architectural integrity with the most advanced, next generation building techniques, technology and amenities available," says Bobby Alvarez, founder and president of The Alvarez Family of Companies. "We are proud that Avila selected our company as the exclusive builder/designer for this new community and ensure that Avila's commitment to distinctive excellence continues."
ALVAREZ NEW CONCEPTS BREAKS GROUND ON FIRST NEW AVILA DEVELOPMENT SINCE 2007
All residences will be certified Energy Star Homes with all concrete block exteriors, energy efficient and healthy humidity control systems, air purifiers to filter out allergens, use of non-VOC (volatile organic chemicals) paints and stains, and will be certified by independent inspections to meet Florida Green Building Coalition (FGBC) standards.
"This groundbreaking marks the next step in the evolution of Avila as Tampa Bay's premier community," adds Michael Sierra, vice president of Avila Golf and Country Club. "We know that these new luxury homes will be built to the Alvarez family's highest standard of quality which is why Avila selected Alvarez New Concepts as the exclusive builder for this development."
About Alvarez New Concepts/The Alvarez Family of Companies
Since 1983, The Alvarez Family of Companies stands alone as Tampa Bay's premier custom home builder with more than 450 distinctive, original, estate homes built from Tampa to the beaches of Pinellas County. Alvarez New Concepts homes embrace forward-thinking, proven effective construction techniques, materials and architectural design to make luxury living healthy, energy efficient and technologically convenient. For more information about The Alvarez Family of Companies and Alvarez New Concepts, please visit www.alvarezhomes.com.
About Avila Golf & Country Club
A classic and traditional club, Avila was built in 1980 offering golfers and sports enthusiasts the luxuries and anonymity of Country Club entertaining. A family friendly Club, Avila offers junior golf programs, annual social activities, and pool and tennis recreation. Amenities include the signature golf course redesigned in 1988 by developer Bob Sierra of Avila and partner Jack Nicklaus, lighted Har-Tru tennis courts, fully equipped pro shops, junior Olympic-size swimming pool, and newly renovated, Mediterranean-style Clubhouse. For more information about Avila Golf & Country Club, please visit www.avilagolf.com.
Media Contact:
Steve Germain
813.831.5077
Steve@TampaBayWriter.com