Choosing Gable Roofs For Your Custom Home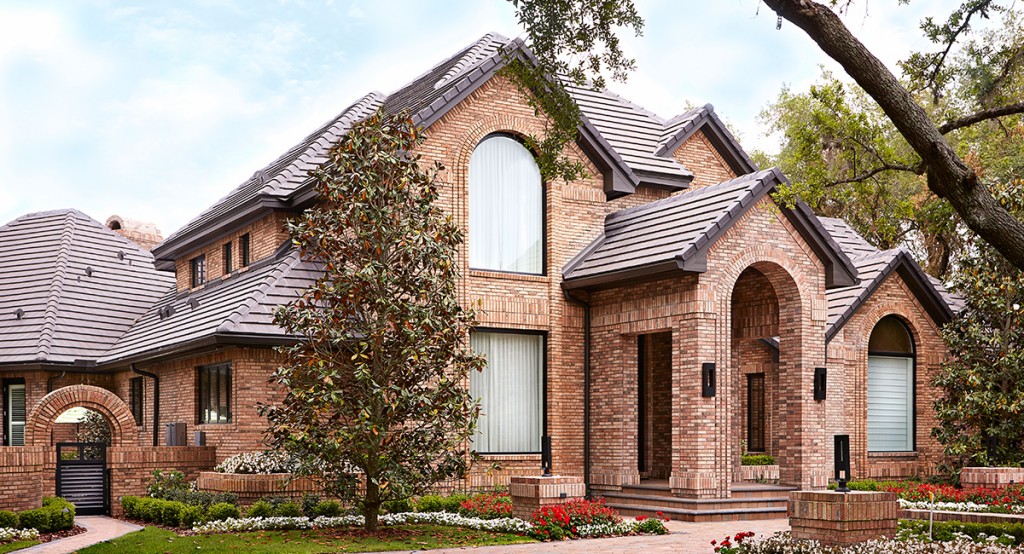 Gable roofs, easily recognized by their triangular shape and are one of the most popular roofs choices in the United States. There are many different styles of gable roofs, also known as peaked or pitched roofs, and in this article we will discuss each one, along with the advantages and disadvantages of installing a gable roof on your custom home.
Advantages of Gable Roofs
There are plenty of advantages of gable roofs that factor into them being a popular roofing style. Gable roofs will shed water easily, important for the rainy Florida weather, and will provide more space for an attic or vaulted ceilings; which will allow for more ventilation. The simple design of a gable roof makes it easier for them to be built, making it cheaper than more complex roof designs.
Disadvantages of Gable Roofs
Just like anything else, there are a few disadvantages that go along with Gable roofs. High winds and hurricane areas can be problematic for gable roofs. High winds can cause materials to peel away, and if there is too much of an overhang, strong winds can possibly cause the roof to detach. However, as custom home builders St. Petersburg, we know that this problem can easily be avoided if proper braces are used and homeowners have their roof inspected after a large storm to make sure no damage occurred.
Different Materials Used on Gable Roofs
For homeowners that go with a gable roof for their custom home, there are plenty of materials they can choose from. Gable roofs can be covered with almost any type of material including:
Terra Cotta

Metal

Asphalt Shingles

Cedar Shakes

Clay/Concrete Tiles
However, as St. Petersburg luxury home builders, we recommend that gable roofs should be shingled with metal shingles if the roof also has hips and valleys, to help prevent any roof leaks.
Types of Gable Roofs
As we mentioned earlier, there are a few different types of gable roofs for homebuyers to choose from.
Crossed Gable Roof
A crossed gable roof is when two gable roof sections are put together at a right angle, making the two ridges perpendicular to one another. This type of roof is perfect for homes that have separate wings. You can also use a crossed gable roof to accent the different areas of the home, for example the garage, porch, or dormers. Crossed gable roof designs are most commonly seen on Tudor style homes.
Front Gable Roof
A front gable roof is typically placed at the entrance of the home. This type of design is most commonly used on Colonial style homes.
Side Gable Roof
A side gable roof is known as a basic pitched roof. This design will have two equal panels that are pitched at an angle and meet at a ridge in the middle of the home. This forms a triangle section that can either be left open for an open gable roof, or enclosed for a boxed gable roof.