Creating the Perfect Outdoor Living Space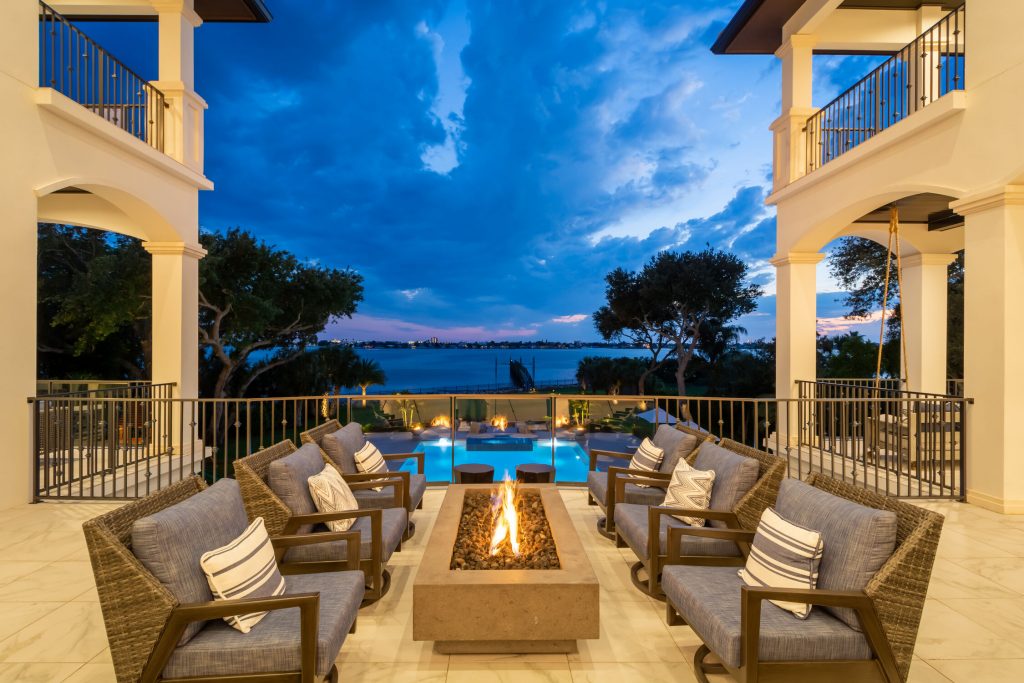 With spring just a month away and Tampa Bay already experiencing temperatures well into the high 70s, now is the perfect time to create an outdoor living area that acts as a functional extension of your new custom home and reflects your unique lifestyle. For some homeowners, this may mean a complete outdoor kitchen with brick oven, fire pit, barbecue, and fully-stocked bar. For others, it may mean a private tropical oasis with in-ground lap pool and luxurious non-slip deck material. The options truly are limitless.
Not quite what you're looking for just yet? The new home builders in Tampa with Alvarez Homes can help. Below, we go into some of the most popular outdoor living elements of ultra-luxury custom homes. For more information, don't hesitate to get in touch with us for a consultation via our contact request form.
Fire Pit
Every luxury homeowner knows that the fire pit is a crucial element of the perfect outdoor living space. There's nothing more special than gathering around the fire with friends and family on a rare chilly night for s'mores and private conversation. From elaborate patio fire pits constructed from steel with a dedicated grill kit and wood storage to one you can build using nothing more than fire ring, gravel, and masonry stones, a fire pit is a great addition to any outdoor living area. Our personal favorite is custom outdoor fire pit tables masterfully crafted from composite concrete or premium teak that can operate with natural gas, liquid propane, or eco-friendly bioethanol. All the joy of a clean-burning flame without the mess of a wood fire, complete with ample surface space for glassware and appetizers.
Related: How to Create the Perfect Outdoor Entertainment Area
Pergola
The pergola is an outdoor garden structure that forms a shaded passageway or sitting area of vertical pillars that support cross-beams and an open lattice, upon which woody vines are usually trained. The landscape of your yard, such as the surrounding trees and flora, as well as your own house play a major role in providing the ideal canvas on which to incorporate the pergola. You may opt to have the structure erected under the shady branches of a beloved tree or built as a stand-alone structure complete with an indoor-style fireplace and built-in seating area. No matter which style you opt for, such a feature is bound to lend your outdoor space more privacy, space, and shelter from other elements. In fact, it's common to consider this feature as somewhat of a finishing touch on the outdoor haven you and your builder have painstakingly created.
Outdoor Kitchen and Dining
If grilling and entertaining are something you just can't quite seem to get enough of, an outdoor kitchen and dining area is a must in your outdoor living space. For the most luxurious outdoor kitchens, this means a refrigerator, grill, gas stove, storage, pizza oven, sleek countertops and cabinetry, sink, and any other necessary accessories to cut down on trips back inside the home. As for the dining area, we highly recommend investing in high-quality dining sets that are easy on the eyes as they are on your guests. Our personal favorite is tableware and napkin rings specifically matched to the color of flowers and foliage of the surrounding backyard.
Pool
When you go for a refreshing dip in your custom home's pool, will it be in a dramatic-looking infinity pool, a private lagoon, or an Olympic-style lap pool? If you're not sure how to answer, don't worry. The best home builders in Tampa at Alvarez Homes are here to help you find a luxury pool that accentuates your outdoor living area and fits perfectly with your future home. For those with modern tastes, this may mean an infinity pool or perimeter-overflow pool, creating the effect that there's nothing separating your pool from the horizon or beautiful waters of Tampa Bay. For those who are more athletically-inclined, this could easily mean a 50-foot rectangular lap pool that you can start each morning by swimming a few laps in. For those who want it all, we can incorporate everything from music, lights, temperature control and cleaning systems, and a wide variety of other custom elements into your perfect pool design. We personally love to incorporate features that blow potential guests straight out of the water, like elegant waterfalls, contemporary water fountains, and tanning ledges.
Related: How a Luxury Home Builder Can Design a Pool to Fit Your Lifestyle
Putting Green
Home is where the heart is. And if your heart is at the iconic 12th hole of the Augusta National Golf Club, it's time to bring a custom putting course to your backyard oasis. When you work with the Tampa home builders at Alvarez Homes, we'll transform your space into the putting green of your dreams, complete with all of the faux-water features, bunkers, real slopes, and leaderboards your heart desires. The only real constraints you have are the space you've got to work with and your budget. Apart from that, we can create any wonderland of slopes and breaks you can conjure up.
Koi Pond
Koi fish, also known as Nishikigoi in Japan, are a symbol of prosperity and have been commonly referred to as "living jewels" due to their vivid colors. But it's their ease of care and ornamental nature that makes them such a popular water feature in luxury water gardens across the world. Not only do koi ponds add a unique and exciting aspect to your outdoor living space, but they also improve the atmosphere of your garden, providing a great habitat for wildlife and improving the overall value of your property. The possibilities, like most of the features described in this article thus far, are limitless. It could be a sunken garden among your bamboo trees, a space enclosed inside an all-glass viewing area, or a submerged patio with an infinity koi pond.
No matter which features you opt to include in your luxury outdoor living space, we are ready to transform your vision into a reality. Just get in touch with a custom home builder in Tampa from Alvarez Homes today, and we'll provide our unique design and building expertise to every aspect of your project, from the foundation to the rooftop.
To schedule a consultation with Alvarez Homes, Tampa home builders, call us today at (813) 969-3033 or fill out our contact request form.