Popular Front Porch Designs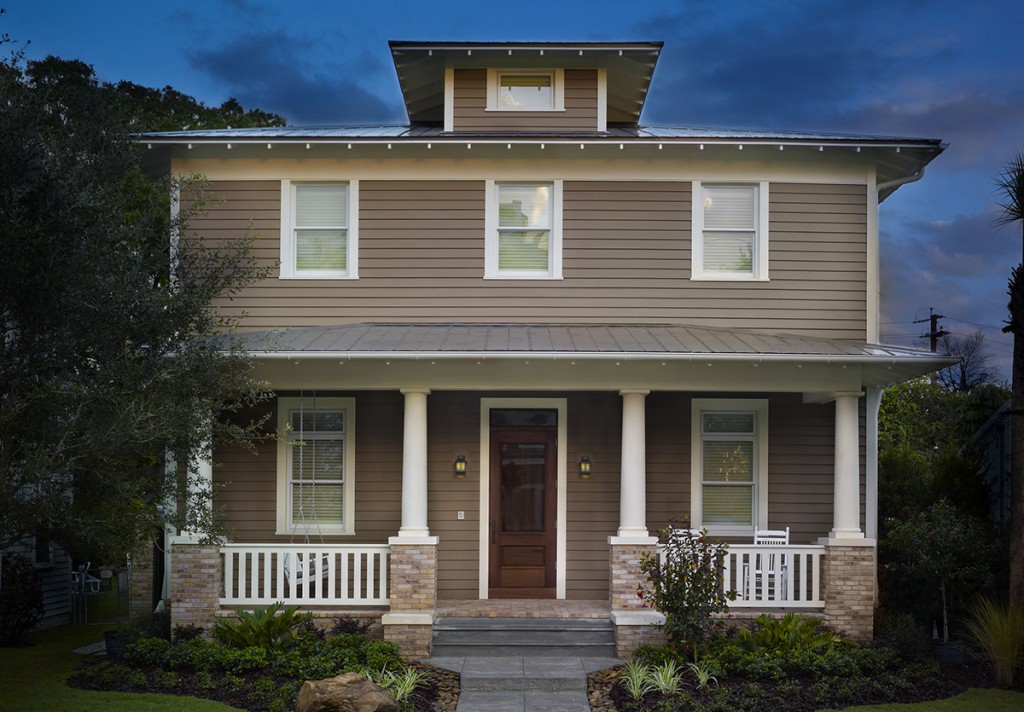 As your St. Petersburg custom home builders, we know that a front porch is not only an extension of your home, but also an extension of your personality and style. You want your front porch to compliment your custom home, as well as be warm and welcoming.
Common Types Of Front Porches
When deciding what kind of front porch you want for your custom home, there are a few key factors to keep in mind. Railings, columns, and lighting to name a few.
Bungalow Porch Style
Bungalows (featured in the main photo) are very common in the Florida area, and bungalow porches offer a front area that is open to the yard, expanding your living space. These porches typically feature oversized columns or pillars made from wood, stone, or brick. The floors are usually wood, concrete, or ceramic tile. Bungalow porches are usually decorated as an extension of the living room, so rustic furniture is typically used.
The Wraparound porch
This is one of the most common types of porches people like for their home, and can almost always be found on a Victorian style home. Wraparound porches are great for areas that have warm weather for most of the year,a perfect option for custom homes in St. Petersburg, FL. These porches are ideal for displaying outdoor furniture, like a porch swing, rocking chair, benches, tables, and more. People who lean towards wraparound porches typically enjoy spending more time outdoors, and the porch can also include a ceiling fan.
The Enclosed porch
An enclosed porch has panels, and these can be changed and adapted for the different seasons. For example. during winter when the weather is colder, your porch can have glass panes, like a
sunroom, and in the Spring, Summer, and Fall they can be switched out for screen panels. You can also remove all the panels for a more open look.
The Gable-Style Porch
A Gable-style porch is a small porch, and is at the top of a stairway leading into a home and has a top landing before entering the doorway. The porch has a gable-style, ridged and dual-pitched roof.
Decorating Your Porch
Once you choose what type of porch to have added to your custom home, don't forget to decorate! As your custom home builder in St. Petersburg, we recommend that you get the appropriate outdoor furniture that will survive the weather conditions. Front porches make good places for plants, as well as seasonal decorations.
For more information or to schedule a consultation with Alvarez Homes, please call us today at (813) 969-3033 or submit our contact request form.